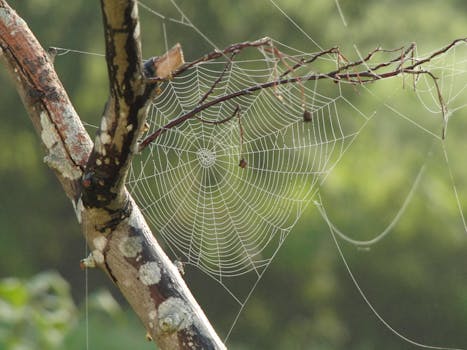 –  Temptation's Sticky Fingers
Is there anything more irritating than running into a spider's web while mowing?  Of course the web won't hurt anyone, but the spider who built the web certainly might.  I try to be vigilant watching for the pesky things; I try to duck under their sticky tendrils avoiding that creepy sensation that sends my arms and hands flailing into the air.  Yet, when sidetracked by the tight passage between two trees, I end up in one when I least expect it.  God has used that incident as a reminder to me of temptation's sticky tendrils and how they will attach themselves to me if I try the ducking and dodging process instead of the Bible's suggestion: RUN from temptation!  Lingering in temptation brings sticky situations!
They say confession is good for the soul – so perhaps I should tell you my dreaded temptation of not telling the whole truth and nothing but the truth.  I tend to exaggerate, or eliminate bits and pieces in order to make myself "look better" or to avoid hurting the feelings of others.  I know – sad.  But God is in the process of helping me get stronger in telling the whole truth.  Whether I look good or not, whether it's pleasant to the hearer or not, the truth is what God requires and my goal to please God comes first.
James wrote, "Each one is tempted when he is drawn away by his own desires and enticed." (James 1:14) Who doesn't want to look good in the eyes of others?  My desire is to please others and sometimes that comes in direct opposition to pleasing God.  James continued, "Then, when desire has conceived, it gives birth to sin, and sin, when it is full-grown, brings forth death." (maybe not physical death, but separation from God) (verse 15).  This temptation/sin process is always a downward spiral.  First, a thought – then a desire and if we don't run from it, the desire will give birth to sin.
So, what's the cure?  For some, it's to stay away from places that serve beverages that intoxicate.  For others, it may be to change friendship relationships that put them us in awkward places where sinful activities are carried out.  For me, it's to speak the truth, the whole truth, but with an attitude of love expressed in the kindest words possible.  You'll have to seek the help of the Holy Spirit to find your solution to avoiding the temptations that lead you to sin.
God has crafted the framework for the forgiveness of our sin.  "He (God) made Him (Jesus) who knew no sin to be sin for us, that we might become the righteousness of God in Him." (2 Corinthians 5:21)  We have forgiveness because of Jesus, but that forgiveness does not give us the right to continue in a state of sinful living.  Ask God today to help you with your greatest area of temptation.  He will help you avoid the sticky tendrils that snare you into your old pattern and He will give you a way to escape!
(1 Corinthians 10:13)